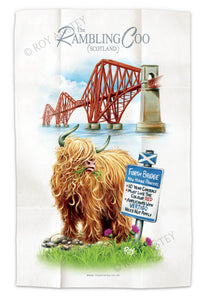 Rambling Coo
Forth Bridge – Rambling Coo: Tea Towel
Regular price
$16.00
$0.00
If yer want tae paint the Forth Bridge, you gotta have a heid fir heights!
Follow oor hairy friends as they wander aroon Scotland in the "Rambling Coo" collection, exploring the wonder an' beauty o' some oor most iconic sites an' locations.
Dimensions: 480 x 740mm. 100% Cotton.
Supplied folded, in a protective transparent sleeve.
Make it a set with other Tea Towels from the Rambling Coo collection
Artwork © Roy Anstey  
Designed and printed in the UK
---
More from this collection